On vertical construction projects—from two stories to 20 and beyond—cranes are essential pieces of equipment on the jobsite. From mobile cranes, to fixed cranes, the market is growing, and technology is evolving.
The global crane market is expected to grow at a CAGR (compound annual growth rate) of more than 6 percent up until 2022. The overall market accounted for $32.45 billion in 2016.
Construction booms in cities such as Seattle, Toronto, Sydney, Melbourne, Brisbane, Dubai and Abu Dhabi have their skylines accentuated with cranes. Also, the wait time for a crane locally is now around eight months, about twice as long as normal. Trying to reserve one is now like trying to get tickets to the most popular Broadway show. It's a long waiting game. Despite the wait, that doesn't diminish the price tag. Cranes can cost anywhere from $15,000 to $55,000 a month, depending on the model. The good news, however, is crane technology is coming into its own and is starting to get a boost.
Tech Rises Up
Crane technology is evolving rapidly and construction and crane for hire companies are taking notice. The technology looks to address some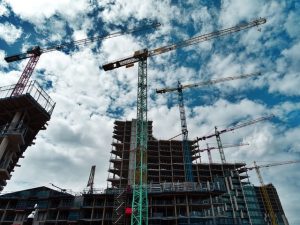 of the most common challenges when working on top of buildings. Blind spots on tower cranes are a significant risk. Using a tower crane camera solves the problem of poor visibility in bad lighting or weather conditions and minimises injury potential to the operator.
There are challenges that require new solutions for the industry as a whole. The ongoing upgrading of safety requirements on jobsites and within the industry is one. There is also fleet expansion and the need to keep track of equipment and hours of operation. Additionally, there is a desire to simplify care and maintenance of the cranes, as well as the growing demand by the customer for the newest and best technology, she explains.
All of this is leading to the introduction of new technologies inside crane equipment in order to meet the needs of the construction industry.
As an example, computer system failures in cranes and time wasting with repairs are one of the obstacles when implementing new crane technologies. Problems can also arise when working with computers that are actually running the cranes themselves. Using the new technology when self-erecting cranes malfunction can hinder a job immensely.
Still, the advantages of using the technology far outweigh the negatives that might arise. The benefits, such as using computer software and tablets in the field, make it easier to diagnose mechanical and electrical issues in real time.
Additionally, fleet-management devices allow companies to track the hours of use on their cranes, thereby capturing overuse or monitoring day-to-day operations from afar. With the use of anemometers and data logging systems, wind speed and weather conditions can be measured, which help when planning for a lift. Finally, anti-two block devices help to prevent line breakage on a crane, while safety features such as braking or limit switches help decrease the likelihood of a load failure.
What's Coming
The construction industry in the emerging economies of Latin America, Middle East, Eastern Europe, Africa and Asia is expected to grow rapidly during the next 10 years. It is expected to surge to $6.8 trillion by 2021 in these regions.
The demand for fuel-efficient tower cranes is rising rapidly as well. A major factor contributing to this segment's growth is the increase in awareness of carbon emissions and their environmental impact, as many contractors seek fuel-efficient equipment. Advanced bubble cranes are capable of lifting heavy freights to considerable lengths, with cost-effective performance and high safety levels. These aspects have improved the demand for technologically advanced cranes.
Staying up-to-date with crane technology will provide benefits to builders and manufacturers. Making it a collaborative effort can increase the crane industry's advancement. As the technology evolves, the industry will become safer and more efficient.